DO YOU REALLY LOVE JESUS?
Many people today say they love Jesus. But what is involved in that statement
according to the Holy Scriptures?
Jesus Himself said in John 14:15; "If you love Me, you will keep My commandments". (New American Standard)
          In other words, it is impossible to love Jesus unless we have ACTION (works that God has prepared for us to do) behind it. But our religious action must be what He has authorized in His Word! I Peter 4:11; "Whoever speaks, is to do so as one who is speaking the utterances of God…" Revelation 22:18, 19; "For I testify unto every man that heareth the words of the prophecy of this book, If any man shall add unto these things, God shall add unto him the plagues that are written in this book: and if anyone takes away from the words of the book of this prophecy, God will take away his share in the tree of life and in the holy city, which are described in this book. (English Standard)
          Many years ago, there was a song that went, "To know, know, know, him, is to love, love, love him, and I do, and I do, and I do". This precept is exactly what the Inspired Word of God teaches. Study I John 2:3-5: "By this we know that we have come to know Him, if we keep His commandments. The one who says, "I have come to know Him," and does not keep His commandments, is a liar, and the truth is not in him; but whoever keeps His word, in him the love of God has truly been perfected. By this we know that we are in Him" (New American Standard)
          Now let's put this principle to the test! Many people today say that they don't have to go to church (assembly) in order to go to heaven. But Jesus, through the inspired Word of God says; Hebrews 10:25: "Not forsaking the assembling of ourselves together, as the manner of some is; but exhorting one another: and so much the more, as ye see the day approaching." (King James)
          Others say that say they are saved by simply believing and accepting Jesus as their personal Saviour, when the Holy Scriptures tell us we must hear the Gospel, believe it, repent of our sins, confess Jesus Christ before men, and be baptized into Christ for the remission of our sins, in order to reach the soul saving blood of Jesus Christ! This puts us into the one true church, the one you read about in the New Testament, the one Christ died for!
ARE YOU IN THE ONE TRUE CHURCH, THE ONE BODY, WHERE SALVATION CAN ONLY BE FOUND?
CAN YOU FIND THE CHURCH YOU ARE A MEMBER OF IN THE NEW TESTAMENT?
STUDY YOUR BIBLE AND SEARCH FOR ALL THE TEACHINGS IN THE NEW TESTAMENT ON THE ONE TRUE CHURCH, THE ONE BODY, HIS CHURCH, TAUGHT ONLY IN HIS NEW TESTAMENT.
<![if !vml]>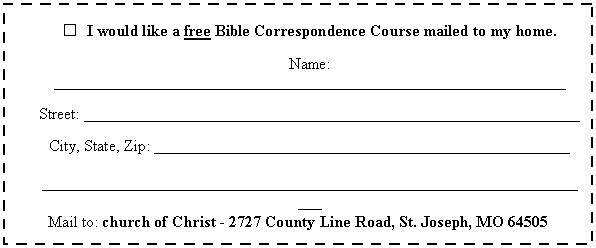 <![endif]>THEN, TRY TO FIND A GROUP OF CHRISTIANS WHO ARE FOLLOWING THE NEW TESTAMENT PATTERN, WHICH INCLUDES WORSHIPPING GOD IN SPIRIT AND IN TRUTH, AND FOLLOWING ONLY THE AUTHORITY IN THE NEW TESTAMENT CONCERNING THE CHURCH AND HOW IT IS TO FUNCTION, WITHOUT MIXING IN ANY DOCTRINES OR COMMANDMENTS OF MEN!